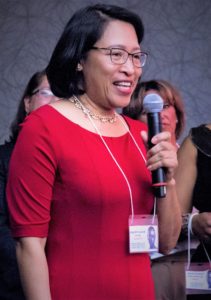 The first step on the journey to success is belief
When Amelyn thinks of each person she has met through Enagic, she is always touched. "I've been blessed by those who bought products from me when I just started the business," she says, "and I am grateful for those who joined the business with me—it is thanks to these great people that I have been able to do the business and continue with it."
"A real turning point for me was when I gained total belief and understanding of Enagic's science and innovation strategies," she says. "When I hit the point where it made sense to me and I could connect the dots, I became passionate about mentoring others to believe as I did. I put the pedal to the metal because of my total belief."
Amelyn is an Independent Distributor and Certified Master Trainer promoting products, services and business opportunities to people interested to have physical health, financial and time freedom. Her goal is to help and educate people how to break out from 9-5 job and be your own boss by sharing this great business model. She is from the Philippines and came to Canada on August 1990, an Accountant by profession. She started her Enagic business in 2007 part time while working as an Accountant full time. She resigned her Accounting job in 2017 and started working full time as Enagic Distributor. Enagic is global, she enjoys travelling around the world and doing business at the same time.

Amelyn's Seminars/Workshops:
Change your water…Change your life
Transitioning from "9-to-5" to Entrepreneurship
Effective action for disease prevention
Wellness, Energy and Productivity
"Amelyn is a very determined individual who knows what she wants, and then goes out and gets it. She believes strongly in surrounding herself with good people and works hard to ensure those people impact others in a positive way, and her influence is far-reaching. She's a passionate person who cares about the individual. If you have the opportunity, I highly recommend listening to what she has to say" Anhelina Halkina, PR Manager.